This year is the inagural West Seattle Float Dodger 5k run. It will be run on the parade course of the West Seattle Seafair Parade.
So while these guys are getting ready to march…we'll be warming up the course: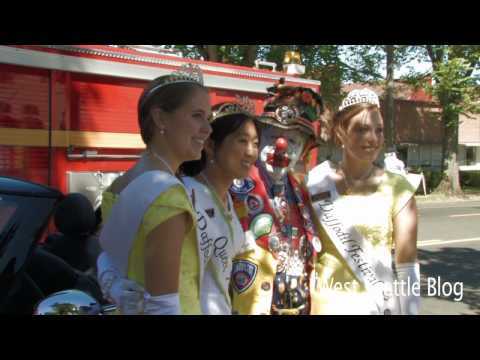 Following is the blurb from the race page at http://www.floatdodger5k.com/Home_Page.html
Welcome to West Seattle Float Dodger 5K, Seattle's newest summer running tradition!
Imagine running down California Ave SW, a main drag usually reserved for cars. Imagine being cheered by thousands of people, the entire length of the run. Imagine trying to outrun spectacular parade floats of the West Seattle Summer Parade. All of this can be yours at the West Seattle Float Dodger 5K.
Ever dream of running in the New York City Marathon, where thousands of people cheer you to the finish? Well, here is your chance to run with the throngs of fans, but this time you only have to run a 5K and you are guaranteed an entry! And, it's right here in your backyard! What a deal!  
See you on the streets on Saturday July 21st @ 9:45am in front of West Seattle Runner
Erik
If you'd like to increase your chances of succesfully dodging the floats you may contact me at erik@alkimoves.com